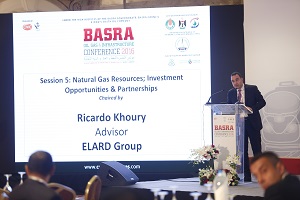 Mr. Ricardo Khoury features as a Speaker at the Basra Oil, Gas & Infrastructure Conference
Posted on October 26, 2016
Mr. Ricardo Khoury, the Head of Environmental Division at ELARD features as an Advisor at the Basra Oil, Gas & Infrastructure Conference.
The Conference was held in Beirut, Lebanon on the 24th and 25th of October, under the high patronage of the Governorate of Basra, Basra Council and Iraq's South Oil Company, the 3rd edition of Basra Oil, Gas & Infrastructure Conference with 200 senior industry leaders to discuss the prospects in Basra Province. With a high representation from Government, Parliament, Ministries and industry decision makers, the event was a platform to highlight business opportunities in Oil, Gas, Infrastructure, Telecoms, Power, …
Mr. Koury was the speaker for the sessions 4 and 5 discussing "Supporting the Development of Refineries & Downstream" and "Natural Gas Resources; Investment Opportunities & Partnerships."